Martin Stopford is a graduate of Oxford University and has a PhD in International Economics from London University. During his 35 years in the Maritime Industry he has held positions as Director of Business Development at British Shipbuilders; Global Shipping Economist with Chase Manhattan Bank N.A.; and Chief Executive of Lloyds Maritime Information Services. Until June 2012 he was Managing Director of Clarkson Research Services Limited (CRSL) and an executive director of Clarksons PLC.
He is currently a visiting Professor at Cass Business School in London, Dalian Maritime University in China, Newcastle University and Copenhagen Business School. His publications include "Maritime Economics" 3rd Ed, the widely used shipping text book published in January 2009, and many papers on shipping economics and ship finance. He lives in London, has two children Ben and Elizabeth and is a keen gardener.
Lloyds List Interview with Martin Stopford, 15th January 1994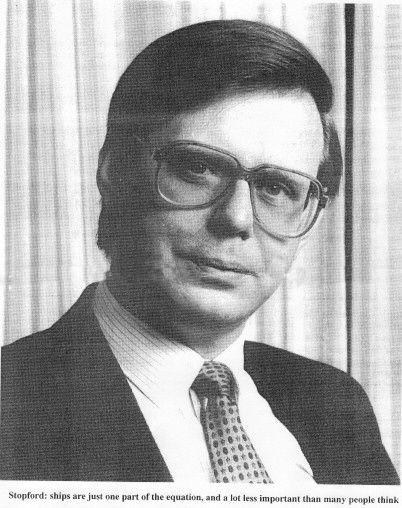 Going back to the future for shipping
Shipping is a people business. That's the view of Martin Stopford, managing director of Clarkson Research Studies. He talked to CLAIRE WALSH
"SPREAD-SHEETS should come with a warning: they are liable to damage your financial health."
What? This from Martin Stopford, practicing economist and managing director of Clarkson Research Studies?
He is sitting at a table at the far end of a vast open-plan area, a temporary office that the Clarkson group is using until it can move back to its bombed-out premises in Camomile Street. There is still an air of improvisation. Overcoats are draped across a hessian screen just behind Dr Stopford. No nonsense about purpose-built stands here.
The floor buzzes with the hum and clatter of computers: the tools of the trade for the 17-strong team of statisticians, data processors, market intelligence and publications experts that make up Clarkson Research.
Spread-sheets are hardly unknown. Yet it would be a great mistake to think of Martin Stopford as a back-room boffin. Important as statistics are, he understands as well as anyone that shipping is a people business.
Shipping wasn't an obvious career. Born in the Potteries. he read Politics. Philosophy and Economics at Oxford. taking his PhD at Birkheck.
He likes motorbikes and a bit of Puccini, which is just as well, since he is married to the soprano Anne Heath-Welch. Shipping struck when he was offered a job as dry cargo researcher for Maritime Transport Research. It sounded promising, and he hasn't looked back since.
MTR was an interesting apprenticeship, he says: I spent three years on one enormous study, to set up a database for dry cargo commodities. This was a unique chance to delve into a lot of aspects of the business; to understand the relationship between shipping and the industries that deal with cargoes.
One of the problems in shipping is that the closer you get to the spot market, the more you think of ships as commodities, and the harder it is to look from the viewpoint of the guy who is doing the shipping. The ships are just one part of the equation, and a lot less important than people in the industry think.
After MTR came British Shipbuilders. Martin Stopford joined on the day it was set up in 1977, and in 1981. aged 33, became the youngest director at a time when most were aged 60 and over. It was a unique industrial experiment, he recalls. There were some 41 yards and 86,000 employees, and much of the first six months was spent finding out exactly what that entailed: We had so many yards that many of the managers didn't know all of them.
There is no other example of putting together such a large company so quickly. It was extraordinary when you think of the problems of setting up joint financial systems for companies that had been in cut-throat competition with each other before.
Ironically, the management structure didn't help. The Labour government wanted BS to be modelled on a modern corporation like GEC, not a big bureaucratic hierarchy. This meant having a lean head office with a staff of some 200: sexy in business philosophy terms, but difficult when it came to handling an organisatiori as complex as BS. The industry staggered into nationalisation in a state of distress, says Dr Stopford, but that wasn't so different from the situation facing other European yards. And he defends the company's successes just as he understands the failures. Its end was inevitable, he says: When I left (in 1988) the cost of a handy-sized bulker was £9m ($13.4m): the cost of materials £8.5m.
BS slowed down the demise of private industry. If the government has given aid to individual yards, some may have survived for longer. But I have to say that it was a truly grim situation at that time. Koreans were bidding prices at which even they were making enormous losses.
Without BS, the net outcome may not have been that different. Shipbuilding success requires vision, stability and persistence: a commercial environment that allows planning for several years ahead. That isn't easy to achieve in Europe's current climate, but Martin Stopford singles out two success stories, Moller and B&W. One has benefited from stable order books given by its parent company: the other from working on successful standard designs. In their very different ways, these two have tackled the problems of shipbuilding technology, he says.
Perhaps it was the solid commercial reality of BS that has shaped Martin Stopford's views, mediated through his experience as senior shipping economist at Chase Manhattan Bank from 1988-90. At any rate he has a keen eye for the difference between theory and practice and banking.
As a transient observer of the banking scene in the 80s, I saw a lot of sharp young MBAs replace the fuddy-duddy relationship bankers, he says. Armed with their spreadsheets they could feed a lot of information through their computer and give scenarios about how the cash-flow on transactions might.
But I think the moral of the last two or three years is that when you've done all that, you look the guy in the eye and decide whether he is flakey or not. Ultimately bankers will back clients who will pay them back, who will see trouble coming and do something about it.
It doesn't matter how much you may second-guess them or tie them up in closely-monitored loan agreements, it's very much a people business. Masses of rigorous data is not necessarily the total answer.
It's very easy to get into shipping and shipping finance, says Dr Stopford, and the perspective an organisation like Clarkson Research can provide is important.
The company, an independent profit centre within the shipbroking group, can offer everything from a weekly digest, a quick read to be packed into the briefcase of busy decision-makers, through a monthly shipyard monitor that looks at the order books, to a six-monthly review. Clarkson's registers, by ship types, are standard references.
But it's a fair criticism that much shipping research consists of recycled information, he says, and that's why it is important for us to produce an original research project on an annual basis
The latest, on VLCC investment for the 90s, scotches conventional notions that most tankers of a certain age will be scrapped around the last five years of the century. Grading tankers from A to E it shows that the worst ships, the Ds and Es, won't readily get hired and will be scrapped earlier.
The real successes are the Cs. Not glamorous, not new, their earning power is far greater than the capital-intensives. They will get through their fourth survey and make it to their fifth. The resulting flattened scrapping bulge is likely to affect replacement projections.
But given the problems in shipping, the low freight rates, who on earth would want to go into such an unstable industry?
The problem with freight rates isn't new, says Dr Stopford. "I spent quite a bit of the summer reading brokers' reports that go back to the 19th century and I would say that 1993 is pretty typical for the bulk and tramp shipping markets."
People repeatedly bemoaned the lack of profitability for most years of the last century and yet the industry made, and makes, a profit; people draw a salary, and some people become rich.
In 1893 shipbrokers were bemoaning the philanthropy of shipowners who continued to order ships despite years of low freight rates, thereby ensuring many more years of low earnings. That's the way the business is.
The ups and downs and uncertainties of shipping are what attract punters, especially in bulk shipping. The tanker industry may hark back to the golden age of the 60s, but if you are in bulk shipping the 90s are a hell of a lot better
Today's spot market provides transport when we don't know the cargo will be there, and the industry is investing on the strength of its belief that it will make money out of carrying that cargo. In the spot market it's like a poker game.
Concerns about safety aren't new, either: If you look at the history of shipping you will find a continous struggle between owners who want to control their costs and regulators who decide, with each disaster, that something must be done.
The 80s was a period of financial emaciation for the shipping industry, Martin Stopford says. Even first class owners stopped budgeting for painting and many didn't do basic maintenance. It was an unrealistic phase, a response to extreme structural overcapacity.
As we came out of it the regulators have said its time we tightened control of industry, and quite rightly so.
From his reading and his considerable experience, he believes the past is a guide to the future. but not necessarily in logical way: What happened before is an excellent preparation because it reminds you that even the best laid plan go astray in shipping. The final judgments are bound to come from commercial business players who understand the dynamics of the situation
This interview was printed in Lloyds List 15th January 1995.